This evening was the Weird Al Yankovic concert at the Gillioz Theater in Downtown Springfield, Missouri. The Gillioz Theater is rich in history. It is 86 years old and seats 1,130 people. I arrived quite a while before the concert started and the line stretched all around the corner of the building. The show was "SOLD OUT".
I met up with both Greg and Dennis from Born of Him Ministries. We decided to set up the amplified speaker across the street from the front of the building. All three of us have speakers, but Greg's is the largest amp and sets on a tripod. We used it. It's called a "Half-Mile Hailer". We did keep it turned pretty low, however, compared to how loud it can get.
I stepped up first on the step-stool to open air preach. I introduced myself and said that we are Christians who follow Jesus' command to go into all the world and preach the gospel to every creature. A woman in the crowd yelled, "No one cares". I wondered if this might be an indication of how the night would go.
When preaching at various types of concerts, you can kind of expect the reaction of the crowd you'll get. For example, at a country concert we don't normally draw too much of a hateful, venomous, God-hating crowd, that will spend their time cursing us and God during the open air preaching.
However, a concert like Alice Cooper and Rob Zombie, the crowd will be more likely to do so. With a crowd like those at a Weird Al concert, we won't know until we get there.
For example this video of open air preaching at the Alice Cooper / Rob Zombie concert.
WARNING: Terrible language by the crowd

Periodically throughout the preaching, people will yell and try to interrupt the flow, even asking questions. Their purpose is to get the preacher tied up in a debate and stop the message from getting out. One man that had been cursing me and yelling and flipping me off from the crowd started yelling that he had a question. I finally had to say, "I'm preaching right now".
At times, it doesn't really make a difference to stop and interact with someone in the crowd in a smaller setting, but when there are so many around that can hear the message, it's best not to stop. If that person wants to wait around until after the message, then you can talk to them.
At one point, when asking, "Have you used God's name in vain?". A man yelled out, "God D---". He used God's name in vain just then, out of spite. I then let him know that he will have to answer to God for that on the Day of Judgment.
Greg was the next to step up and open air preach. Greg recently invited me to go with him on an outreach to the Kentucky Derby with Sports Fan Outreach International in May. I am really looking forward to going to this event with him.
During Greg's open air preaching time, a nicely dressed man came up to us with his phone held out around the speaker. He had an app on his iPhone checking how loud the decibles were. He said it was over what is allowed by law (75 decibles). I told him we didn't want to break the law and that we would turn it down. He said he was a business owner in the area.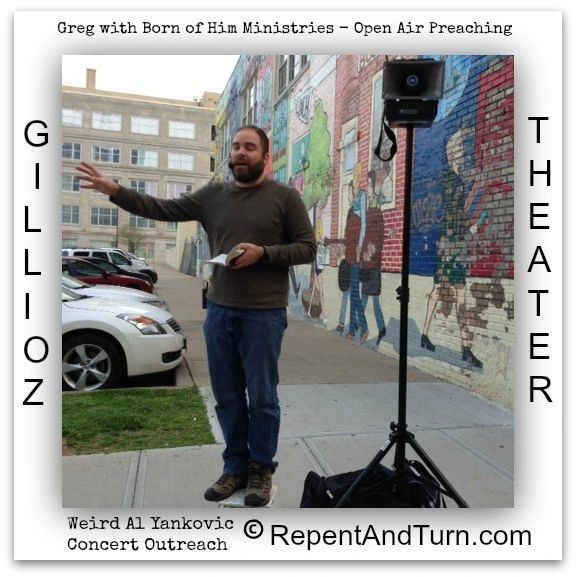 At one point in the evening, I was taking pictures of the crowd in line from across the street. A young woman walked over and told me to delete the picture from my phone. She said she hadn't given me permission to take her picture. I let her know I wasn't taking a picture of her, but of the crowd. She didn't care. I explained that by law, in a public area, one doesn't need permission to take a picture of someone. She was very angry and loudly told me to delete them. I finally let her know that I don't plan on deleting them, and to call the police and we will see what they say. She walked away.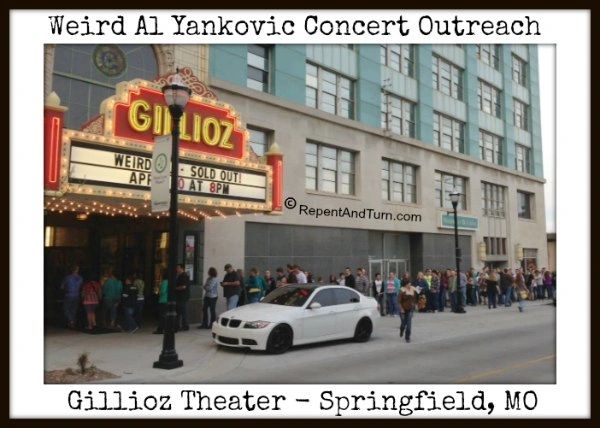 This happens periodically at an event. They are angry at the preaching, or at us for being there, and try to find any reason to argue and force us to stop or get their way at some point.
Even some professing Christians come up to us and say they don't believe we are "doing it the right way" - reaching the lost. My response is similar to D.L. Moody when responding to a lady who said the same thing. He said, "Tell me, how do you do it?" The lady replied, "I don't do it." Moody retorted, "Then I like my way of doing it better than your way of not doing it."
Dennis was next up to open air preach. I thank God for brothers in Christ who are not ashamed of the gospel of Jesus Christ. Who will stand up and boldly to proclaim the Word of God in a world increasing in evil works and turning into such God-haters - and I am not exaggerating - and have to suffer persecution because of it.
"
For I am not ashamed of the gospel of Christ, for it is the power of God to salvation for everyone who believes
". Romans 1:16a
"
For whoever is ashamed of Me and My words in this adulterous and sinful generation, of him the Son of Man also will be ashamed when He comes in the glory of His Father with the holy angels
." Mark 8:38
Not everyone is against the witnessing, passing out gospel tracts and preaching. A young man came up to me and shook my hand. He said "Thank you for being my friend". He went into the Weird Al concert and returned to us a little later. He purchased a magnet of a Weird Al album and gave it to us for being his friend. We hadn't even talked with this man. However, I believe he heard the message we were preaching and believed we cared enough about him enough to tell him the truth.
"
When I say to the wicked, 'You shall surely die,' and you give him no warning, nor speak to warn the wicked from his wicked way, to save his life, that same wicked man shall die in his iniquity; but his blood I will require at your hand. Yet, if you warn the wicked, and he does not turn from his wickedness, nor from his wicked way, he shall die in his iniquity; but you have delivered your soul
." Ezekiel 3:18-19
I knew some people who were attending the concert and in line. They told me a couple of the comments they heard when we were open air preaching.
A woman said something similar to, "I don't really believe in guns, but this is changing my mind."
A man, while hearing us preaching about hell, said, "I feel like I'm in hell right now."
I am excited to hear when someone gets frustrated, or angry, after hearing the gospel. That shows they are thinking about it. It is bothering them. They are being convicted by the Holy Spirit. When someone doesn't even respond, it is worse.
During Dennis' time of open air preaching, a policeman walked up and started talking to Greg and I. He said he was the point-person on issues such as amplified speaking, etc., due to the situation going on with Aaron Brummitt. Aaron is a local pastor who comes down to street preach at Park Central Square and at South Street and Walnut, and other places close by. Aaron has been ticketed about 11 times, now, for disturbing the peace. He has a couple of attorneys and will be going to court soon. I suppose at that time we will find out what is legal and what is not legal as far as amplification and noise ordinances and free speech in the downtown area.
The police officer was extremely polite and friendly, and answered all our questions. He said that he received a complaint about the open air preaching. He isn't going to do anything about it, he just wanted to come by and talk to us to find out what we are doing and how long we plan to be there. He said our volume level was not too loud, nor was it an issue of disturbing the peace.
He said that since the people are mobile, waiting in line to attend the concert, they have the ability to leave and not listen to us if it is bothering them.
If it were someone complaining of us disturbing the peace who lived in an apartment in the building, that's another story. They are not able to leave their apartment. If they wanted to sign a disturbing the peace citation, he would then give it to the person using the amplified speaker. When you go to court, the burden of proof is on the person who signed the citation, to prove you were actually disturbing their peace. He said the 75 decible "law" didn't really have anything to do with this type of citation.
When we were breaking down and getting ready to leave, a young man came over to tell us that he believes that we are "doing it wrong". He had a multitude of things he didn't like. This man had been drinking. He didn't like that we were open air preaching with a loudspeaker. He didn't like us being on a step-stool when we preached, and he didn't like the bag that Greg's tripod was carried in.
Like I mentioned already, people will come up and complain about all kinds of things...but at least they are being convicted. If not, he wouldn't have left his group of friends at the restaurant down the road and walked to where we were to complain. We explained that it's Biblical to preach in the public areas and why we are doing it. He wasn't satisfied with any of our answers.
His friend finally came up and talked him into going back to the restaurant. This young man said that we are pushing people away from God by doing this. He said that because of us preaching tonight, that he would not go to church for another year. I let him know that he has free will and can do what he wants. However, when he stands before God on Judgment Day and tries to use the preachers as a reason he stayed away from God, it won't work.
Some may say that we will turn some people off or drive them further away, but so did Jesus, who said:
"
If I had not come and spoken to them, they would have no sin, but now they have no excuse for their sin
."
John 15:22
Most people were worse off after hearing Jesus because they rejected what he had to say. People who hear the Word will either open their hearts to it or harden their hearts. The Bible makes clear that most will harden their hearts.
"
For wide is the gate, and broad is the way, that leadeth to destruction, and many there be which go in thereat. Because strait is the gate, and narrow is the way, which leadeth unto life, and few there be that find it
". Matthew 7:13-14
Regardless of how much evidence men are confronted with most will refuse to believe the claims of Christianity. Believing will require that men must forsake their sins.
Jesus said: "
And this is the condemnation, that light is come into the world, and men loved darkness rather than light, because their deeds were evil. For everyone that doeth evil hateth the light, neither cometh to the light, lest his deeds should be reproved
". John 3:19-20
Our love for people should be so great that we want to warn them, reprove and rebuke them for their sins, even risking their rejection.
"
Have no fellowship with the unfruitful works of darkness, but rather reprove them
." Ephesians 5:11
"
If the world hates you, you know that it hated Me before it hated you. If you were of the world, the world would love its own. Yet because you are not of the world, but I chose you out of the world, therefore the world hates you
." John 15:18-19
Jesus said, "
Think not that I come to send peace on earth: I came not to send peace, but a sword
."
Matthew 10:34
If you call yourself a Christian, you have a responsibility as a child of God to take an active stand for God and against sin and preach the gospel. I encourage you to be bold in your faith in Christ and do as God commands.
In Christ
Brad St. Clair