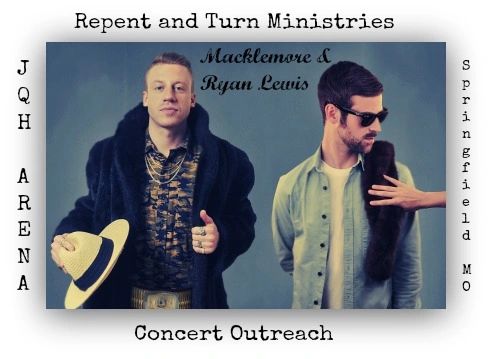 Dennis and I went to the John Q Hammons Arena, where Macklemore & Ryan Lewis were in concert. Macklemore is a white rapper, who curses in his music, as well as it being filthy. He kind of reminds me a little of Vanilla Ice. I'm pretty sure he wouldn't like my comparison.
Tonight at the JQH it was very cold and windy. We didn't bring out our amplifiers because we thought it would rain. We did pass out hundreds of gospel tracts.
We go out to several concerts at the John Q Hammons Arena. A good number of the people go to multiple concerts and have seen our million dollar bill gospel tracts, and sometimes tend to refuse it. However, this crowd was a little different. Most people we handed a tract to accepted it and thanked us.
The
Million Dollar Bill gospel tracts
are eye-catching and people want to keep them. We rarely find them thrown on the ground. Here were some of our comments:
Thank you!
I get one of these every time I come to a concert!
I got a million dollar bill!
One guy, approximately 18 years old brought me back the gospel tract and said he didn't want it. When he was about 15 feet away, I told him, "You will have to stand before God on Judgment Day". He said, "I'm an atheist". I told him, "It doesn't matter, you will still have to stand before Him on Judgment Day". I hope it makes him think.
A lot of parents were bringing their children, between the ages of 10-14 years old to this nasty, vulgar concert. It just goes to show you what kind of world this is becoming. The Bible says in Proverbs 22:6, "
Train up a child in the way he should go, And when he is old he will not depart from it.
" What's sad, is that that verse will work, no matter if you train up a child to have Godly values or vulgar, perverted values.
Here is Dennis passing out tracts to a couple of kids who attended.
If all you are able to do at this time is pass out gospel tracts, or even leave them lying around, please do so. God will use the gospel message on them to convict someone's heart. God's Word will not return void - that's Biblical.
In Christ,
Brad St. Clair