Halloween Pub Crawl & Costume Contest
Downtown Springfield, MO
October 25, 2014

&

Friday Night Street Preaching
Downtown Springfield, MO
October 24, 2014


October 25th was the Halloween Pub Crawl and Costume Contests in Downtown Springfield, Missouri. We Christians decided to go downtown tonight and be a witness for Christ among all the drinking and evil that was going on. Christians are to be a light. We definitely stood out brightly among all the darkness that we encountered.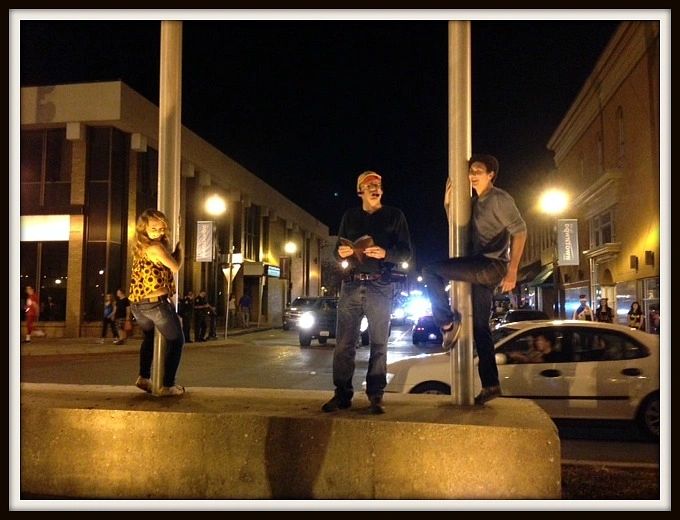 Dennis Vance (Seek and Save the Lost Ministries) Preaching with Pole Dancing Hecklers
Dennis and I arrived earlier than the other Christians. He decided to hook up his amplifiers and preach a message he prepared. As he was preaching, he had a good number of hecklers (people stopping by to yell things, curse, etc.) and even had these two do some pole dancing on the flagpoles to mock his preaching. We are thankful any time people stop by, as they get to hear God's Word being preached.

While Dennis was preaching, an older gentleman walked by and noticed the preaching in public. He looked so surprised that he got out his cell phone and placed a call to someone. He talked for a minute and then held up the phone to Dennis so the person on the other end could hear the preaching.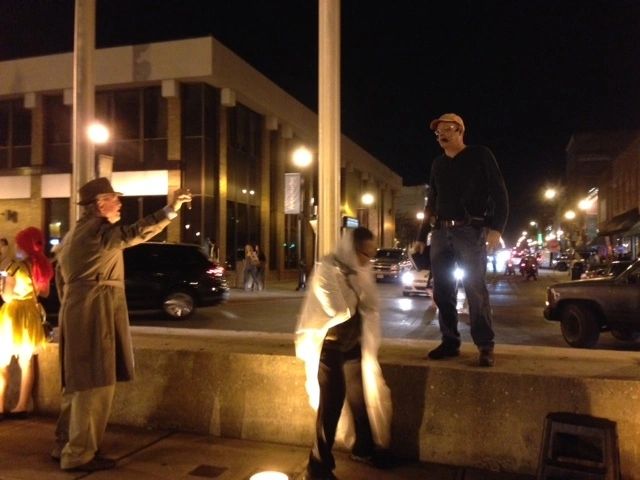 Dennis kept up his preaching for probably 20-30 minutes. It seemed more and more people kept coming into the Square to walk around, which meant more people to hear the gospel.
This young lady jumped up on the raised area where Dennis was preaching. She was very proud of her homosexuality. If you can't read her shirt, it says, "NOBODY KNOWS I'M A LESBIAN". Later in the night she was over listening to the other preachers preaching and heckling them as well. Like I said before, it's a good thing. She was able to hear more of God's Word. The Bible says that God's Word will not return void, but will accomplish that which He pleases. (Isaiah 55:11)

The rest of the group arrived. Dennis stopped preaching and we went to the stage area of Park Central Square to set up the speakers. I brought my large Gospel Sign that says, "Trust Jesus" on one side and "Jesus Saves From Hell" on the other side. I held it during most of the preaching.

Aaron preached for awhile on the Square. While he was preaching, he had a lot of hecklers as well. They would come up and get very close to him and sometimes touch him.



Aaron Brummitt (Repentance Cry Ministries) Preaching with Multiple Hecklers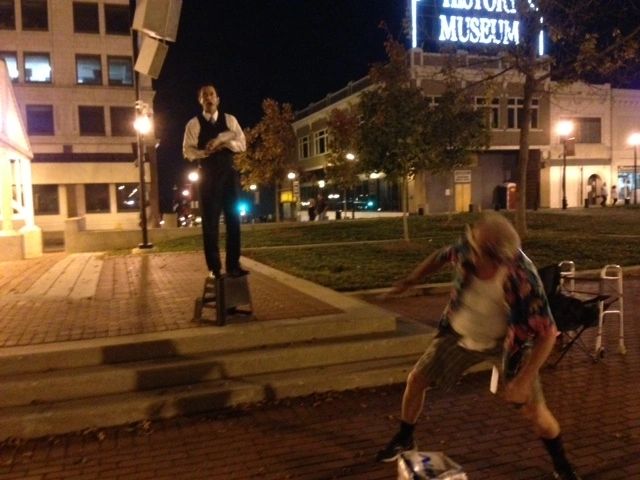 Aaron Preaching with a Man Dressed up Beating a Case of Beer

I was standing a little behind and to the side of the preachers while they were preaching. As you can see from the picture, there were a good number of people on the Square (and it kept getting more crowded), many just standing around listening to the preaching.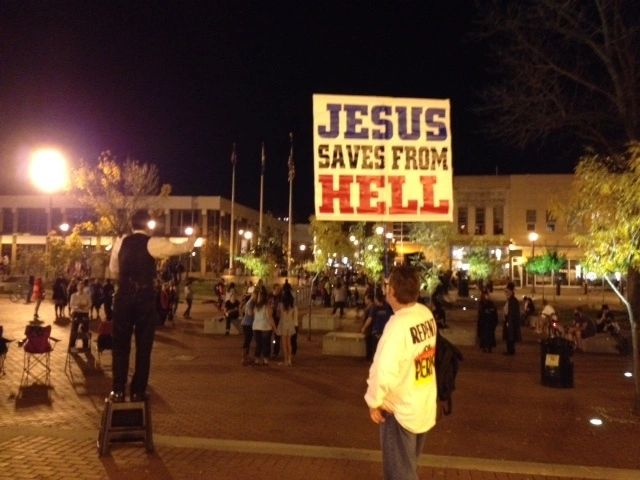 One time a young man came up right behind Aaron and was looking at him. I moved closer and said hello to him. He answered. Then, all of a sudden, he moved forward and unplugged one of his microphone/speakers that is plugged in on a speaker on his belt, and quickly walked away. I asked him to come back, but he flipped me off and kept moving. This only stopped one speaker and the others kept working. I plugged Aaron back up and he was good as new.

Another man, who claimed to be a missionary walked up behind Aaron. Dennis walked up and began talking to him. The man grabbed at Aaron's speaker on his belt to unplug him as the other man had done. Dennis got between the man and Aaron and deflected his attempt. From this point forward, Dennis stood near the preachers to get between them and any person that got too close.

The man who claimed to be a missionary wanted to speak using the speaker system. Did I mention that he had alcohol on his breath? I told him that was not going to happen. We didn't know him or what he would say, and he already tried to unplug the speaker system. He was with a young lady who was immodestly dressed, and she was cursing and yelling continuously at the preacher.

One thing that is great, is that after Aaron stopped preaching, many of the hecklers went over to speak with him for a long time - even the missionary and the immodestly dressed young lady that was with him. He (and the other preachers) gets to witness to them one on one after the preaching is over.



Many People Standing Around to Hear the Preaching of God's Word



There was another Christian out with us this night who preached, Allen. I've met him a few times but don't know him very well. He preached a good sermon, and offered small New Testament Bibles to anyone who wanted one.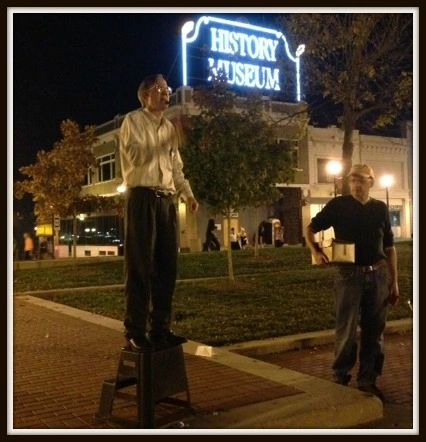 Allen Kemper Preaching the Gospel



Friday Night Street Preaching
October 24, 2014


The night before the Halloween Pub Crawl, we were at Park Central Square sharing the gospel as well. It was a good night.

Brad St. Clair Preaching the Gospel




Singing Hymns Before the Preaching Started




Dennis Vance Preaching the Gospel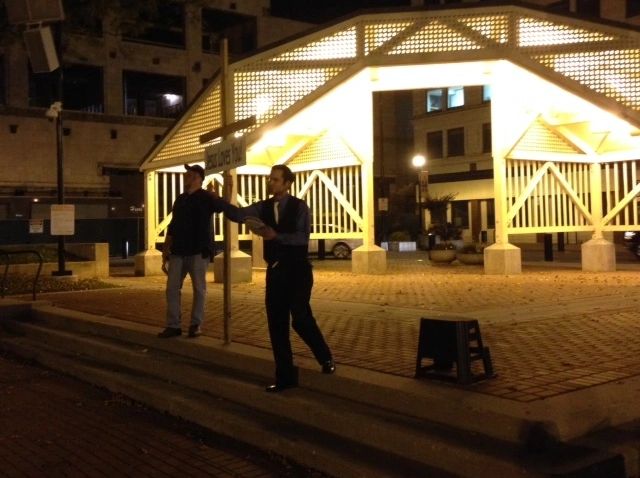 Aaron Brummitt Preaching the Gospel


We thank God that we're able to go out into the public arena and speak God's Word to people. We pray that the Holy Spirit convicts their heart and they repent and trust in Jesus Christ for salvation.

In Christ,

Brad St. Clair